tomtoc Portfolio Case for iPad Review
This carrying case makes traveling with the iPad simple
After purchasing the 11" iPad Pro, I knew that I wanted to get a carrying case. I was looking for something that can hold my iPad, Pencil, cables, and other ancillary items without being bulky or cumbersome. After some looking around, I found the tomtoc Portfolio Case on Amazon. For $30, I figured it'd be worth a shot, so I bought it. After a few weeks with it now, I can say that this is a great solution to use on its own and in larger bags.
Protection
The Portfolio Case by tomtoc isn't your typical carrying case. The case offers a hard shell protective cover encased with a water-resistant cover offering more protection than most carrying cases.
Along with that comes a soft interior with a section for the iPad and for the things that iPad users take with them. The divider offers soft microfiber for the iPad side to keep things from scratching or being abrasive. It also has a host of elastic pockets on the other side of the divider to hold all kinds of things.
Finally, there is a carrying strap that offers the ability to have it grip tightly on your wrist to avoid it from sliding off. The strap is akin to the Nintendo JoyCon Straps. It has a plastic slider to adjust it to fit snuggly around your wrist to ensure it will not go anywhere. I have used this seldomly, but when I do it felt odd to have a couple of pounds hanging off your wrist in this massive case, but it did its job and kept it from falling to the floor. It is a nice touch, but it doesn't make sense to me from a practical standpoint. I often have it tucked under my arm when I need to carry it to and from anywhere.
Storage
This carrying case comes with many options for storing things you want to take with you on an average day out.
As I mentioned before, there are many options to store things in the elastic pockets offered in the Portfolio. From items like your cables, AirPods, pens, Pencil, business cards, credit cards, wired EarPods, and more, you can safely carry them in this case without issue. I have a USB-C to Lightning cable in mine along with AirPods, a USB-C Dongle, My Field Notes notebook, my Apple Pencil, and a Field notes Pen in mine.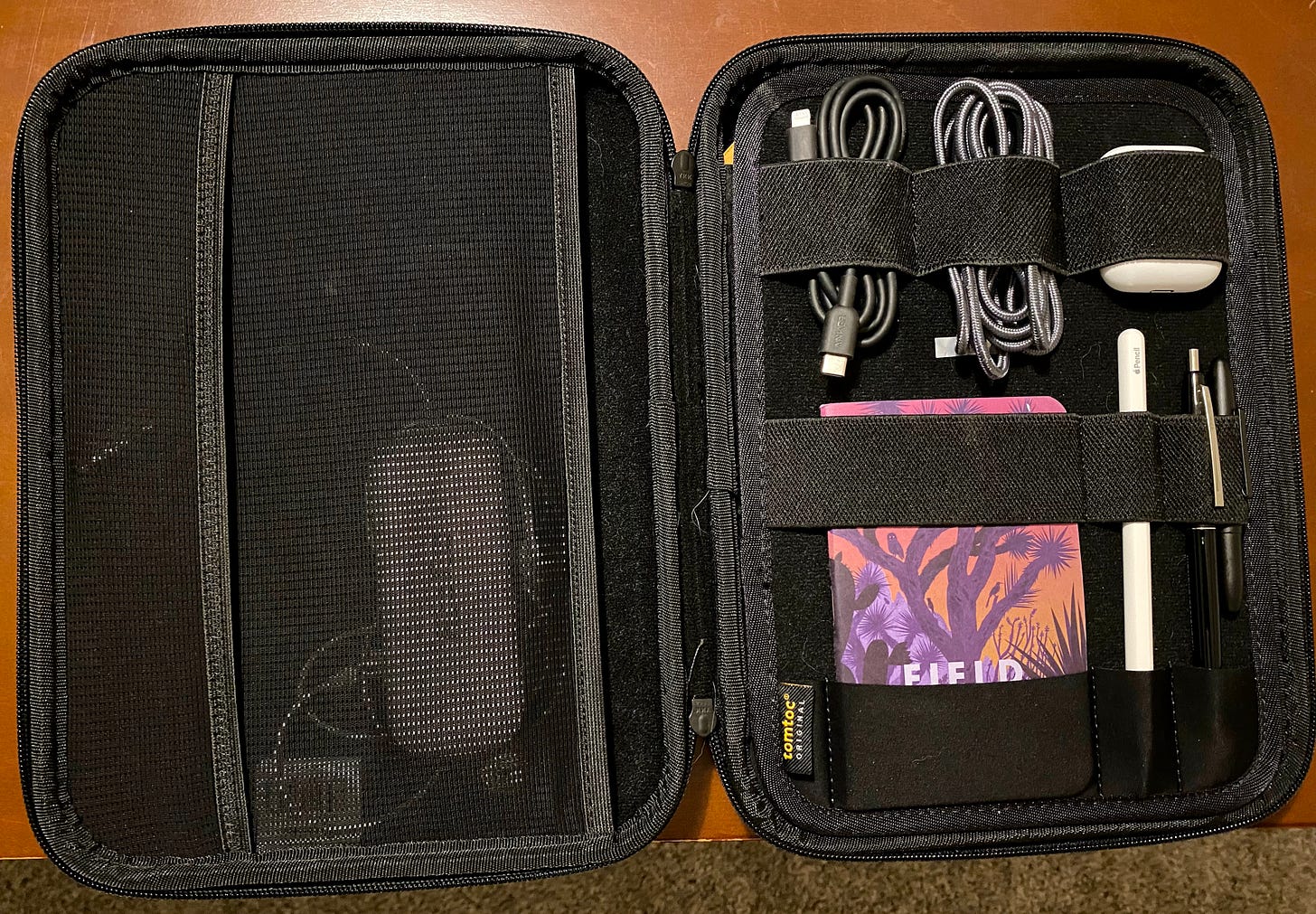 The case also comes with a larger pocket area to store things like a Fields Notes notebook, a small journal, or a Kindle. When I add all the things I need for a day on-the-go, the case requires a little bit of guidance to zip up l. That said, the zippers don't split, and I still feel that my iPad and other items are fully protected without concern.
Portability
When it comes to portability, this case works both on its merit as well as being a secure option for a backpack situation.
I have been taking my iPad with me to my parents when I visit them with this case, and it honestly is all I needed to pack all the tech gear I needed for a weekend. In fact, I am writing this in their kitchen with the tomtoc Portfolio next to me. If I didn't need to bring clothes with me or any other overnight hygiene products, this Portfolio is all I would have grabbed to take.
Seeing that I did indeed need a change of clothes and cleaning products, I opted to throw this case in my backpack instead. It fit snuggly in the Laptop sleeve of my bag without issue. One thing I hated about some bags I owned was that the bottom of the bag offered little protection. My current bag is like this. While I haven't had issues with it damaging my old Laptop to the current iPad, I like to feel more confident in the protection of my computer with this case. I know now that there is added security and give for the iPad to have if the bag is dropped hastily or if it falls off a chair I set it on.
Final Thoughts
This tomtoc Portfolio carrying case is a dream to have for traveling and commuting purposes. It allows me to have a protected case for my iPad when I am taking it to places like work or travel. It also provides handy storage that will enable me to only need the Portfolio when I am out on the go.
To me, the roughly $30 I spent on this case has paid off immensely. I couldn't recommend this carrying case more to people looking to have storage and protection when taking their iPads with them.