Best Shortcut Tools Out Now
Make the most of Shortcuts today with these tools and bundles
Last issue I shared with you the best iPadOS and iOS Content out right now. Today this is a bit of an extension of that. I want to share with you the best Shortcuts tools out there right now. From shortcuts you can use and tweak to your heart's content to app icons you can get to make your Home Screen yours.
Matthew Cassinelli's Shortcuts Catalog
Recently Matthew Cassinelli shared his behemoth of a Shortcuts catalog. With 300 Shortcuts and 300 actions you'll be spending lots of time looking at what this catalog has up its sleeves. Even as someone that has a pretty good understanding of what Shortcuts has to offer I often still find things I didn't know this app can do. For example, I didn't think to use Shortcuts as a GIF searching tool but Matthew did and he created a wonderful shortcut I have been using a bunch since learning about it in his catalog. That is just one of many examples this catalog has to offer.
If you really want to get into Shortcuts Matthew also has a wonderful newsletter you should sign up for called What's New in Shortcuts.
There have been 3 issues released as of right now and all of them have been wonderful reads filled with tips and tricks to make Shortcuts work for you.
Custom Shortcut Icons
With iOS 14 causing a craze of customizing your Home Screen many are using Shortcuts to create their own app icons.
If you aren't familiar how to do that, here's a quick tutorial. Honestly, MKBHD did a fantastic job covering the different ways you can customize your Home Screen so I would make time to watch this entire video if you are interested.
With that out of the way let's talk about different app icons you can get either for free or for a few bucks.
MacStories Shortcuts Icons Bundle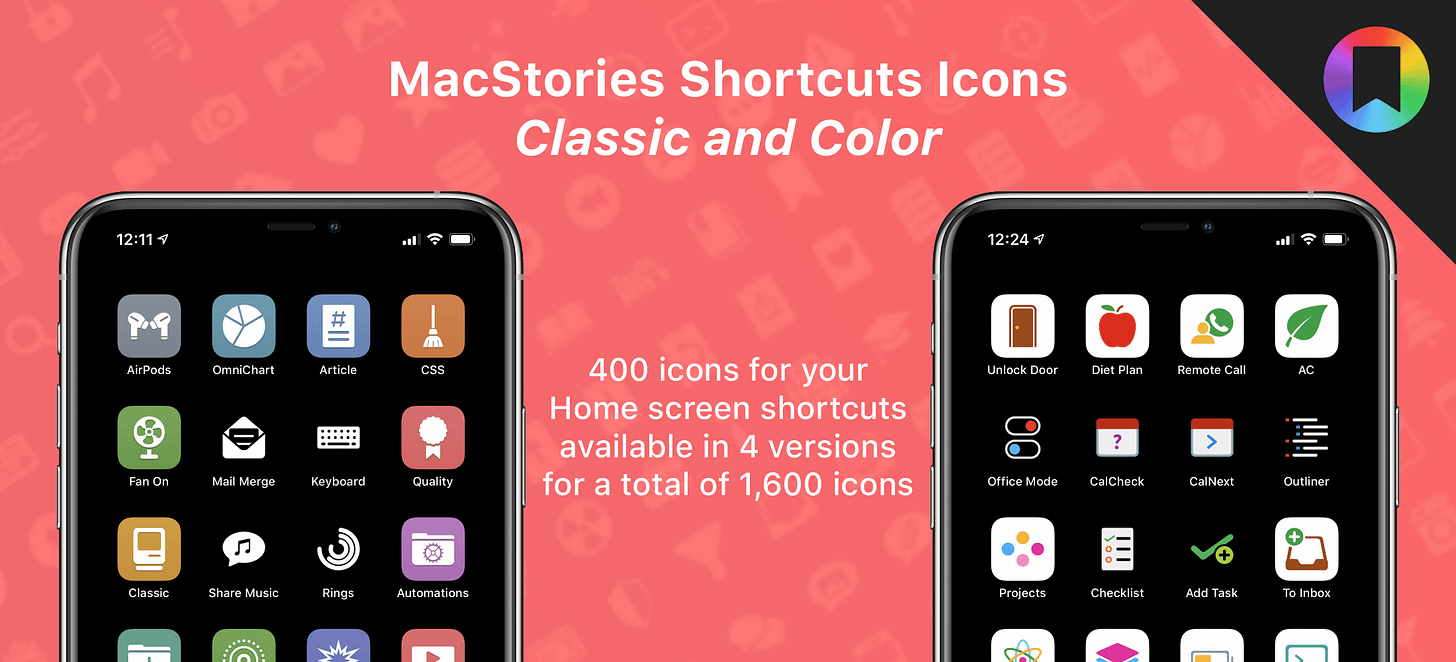 The first is one that was ahead of its time, the MacStories Shortcuts Icons. These icons have 400 glyphs with four different colors totaling 1600 icons! They have all been created by hand and the level of skill shows. Normally these would cost you $29.98 but MacStories is offering 30% off so you can buy these icons for $20.99 today.
If you aren't looking to spend money on icons, there are a few other options that might scratch your itch.
iOS 14 Icon Generator by Robb Knight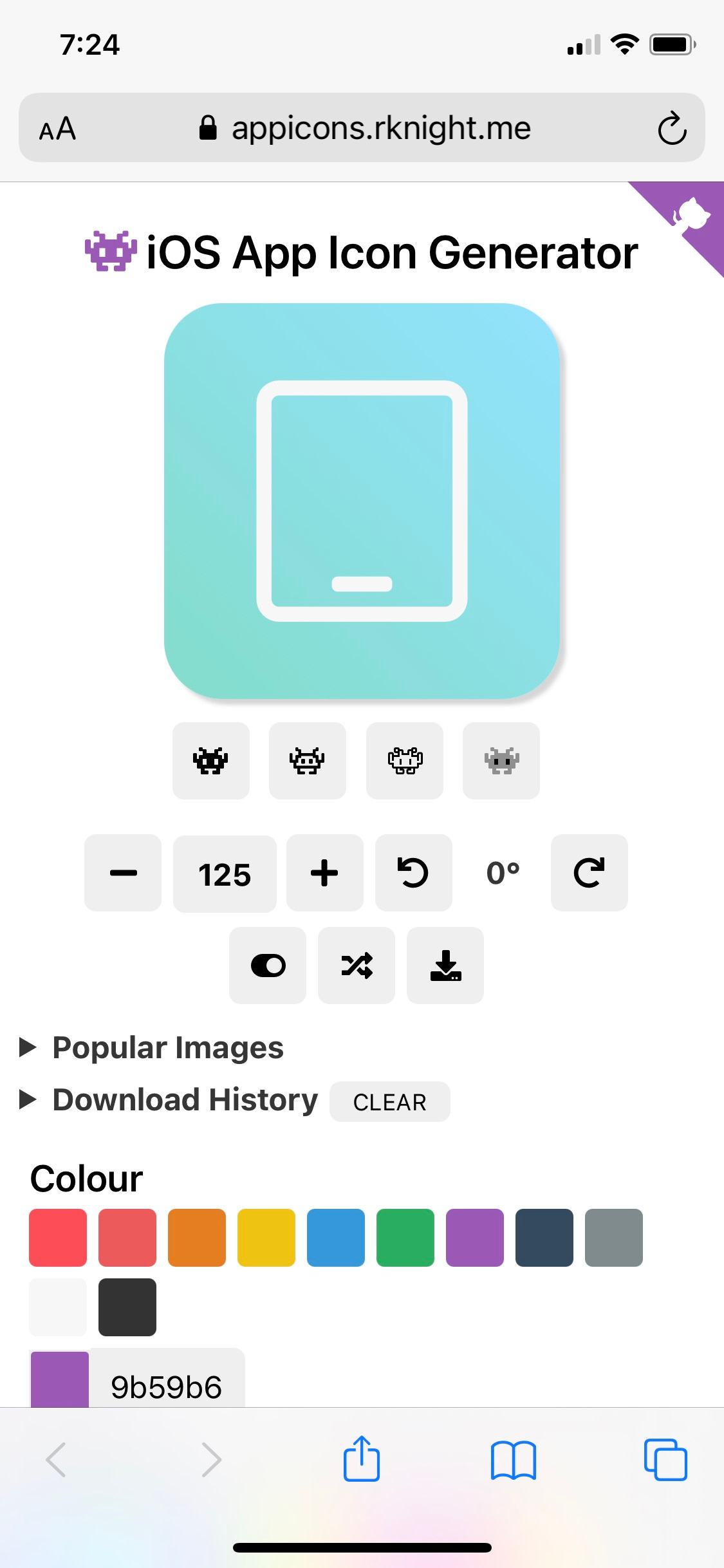 The first is a new icon generator by Robb Knight. I found this through Twitter somehow, and I absolutely love it.
The icons are Font Awesome icons and has some brand icons as well like Snapchat, TikTok, Podcasts, Safari, Twitter, and Instagram to name a few, It is totally free and entirely customizable. You can have one of 4 different icon variations and choose from a gradient or a solid color background.
Once you have what you want just tap the download button and it will be downloaded to Files for you to use in Shortcuts. A very cool and simple solution for creating your own custom icons.
Alphabet and Numbers Pack by Jeff Perry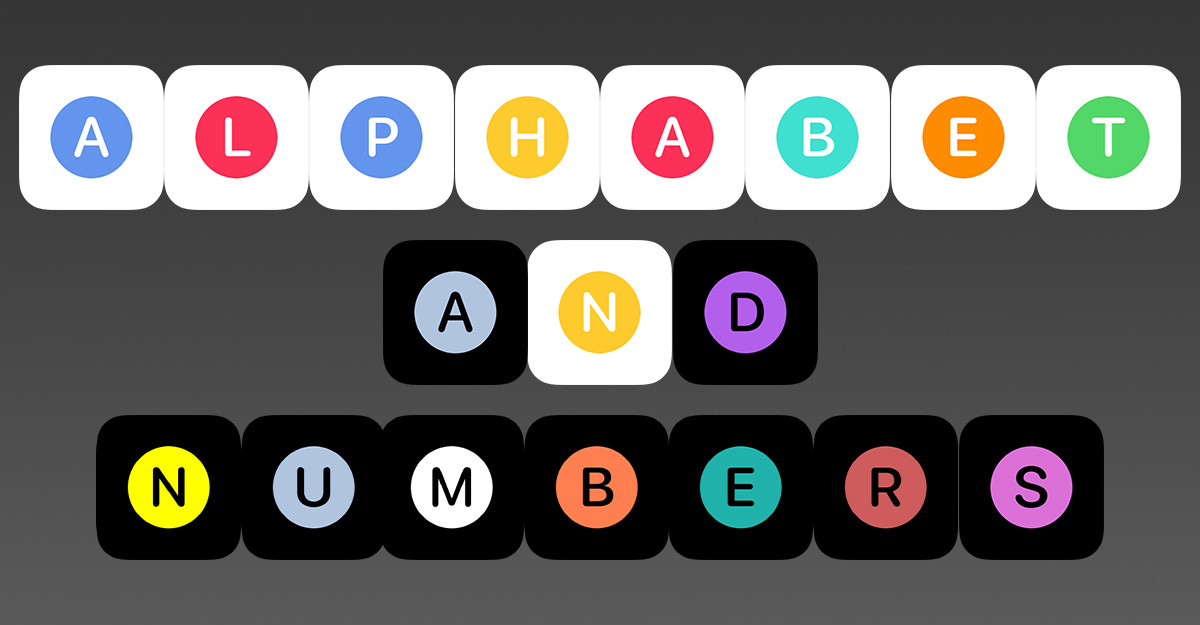 The final pack I have for you today is something I created a while back called the Alphabet and Numbers Pack. This was something I created with Shortcuts and Toolbox Pro. It was a project I made for myself and it eventually got so out of hand I decided to justify the time I spent by sharing this with others. So you can find the blog post here explaining how I made it, the different variations you can use, and more. If you want to skip the blog post and just want to download the .zip file you can download it here.
---
I hope this helps in your quest to make you Home Screen your own. If you want to share with me your Home Screen drop me a line either leaving a comment or tweeting me @iamJeffPerry.